Custom Residential Landscaping
Before the circular paver patio photo. Photo from upper deck.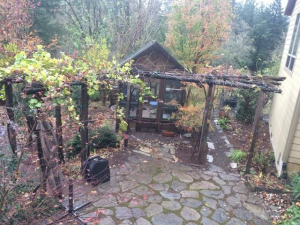 For the last 3 months we have been working on a very intense and somewhat large custom residential landscaping project. Carolyn Gregg with Gregg and Ellis Landscape Design did the landscaping plans. The overall feeling has changed from overloaded plant areas, to separate focal points along the pathways. The focal points include: a paver entrance, 2 separate paver patios, water feature, a grand flagstone entrance and many pathways to the various areas. All are now well planted with a white garden in the front, shade garden areas, multi levels of sod and many interesting plantings.
Everything is now irrigated with either drip or standard irrigation. We have also installed 3 led landscape light systems. At night it is spectacular. That will be highlighted in the next blog post I assume.
This next photos show the Old World Paver Drive. It is a Belgard product. The flagstone entrance to the front door is wide enough for 8 people at once to walk.
Here is another photo of most of the paver parking area. As a side note we also built the pilasters. They even have led low voltage lights.
Please visit our website @ https://woodyscustomlandscaping.com  and contact us with our easy to use form.  Calling works also. 360-687-1882