Landscaping blog posts for Vancouver Washington
We have written many landscaping blog posts for Vancouver Washington. I thought I would share two of the most popular. I hope you find them of some value in search of your perfect yard.
Outdoor Living Clark County Washington
Outdoor living Clark County Washington is not just a phrase. It is a way of life. Outdoor living has become a lifestyle in the Pacific Northwest. All our clients want extended patios, BBQ areas, sitting walls and gathering places. Outdoor living does not have to be done on a grand scale. It just needs to be incorporated into the landscaping. Small, big, expensive or inexpensive, outdoor living is a major desire for almost all of our residential landscaping clients.
Here a few more photos of various outdoor living projects built by us. The all are unique to our clients wishes.
Our office phone is 360-687-1882 to schedule your landscaping estimates. Feel free to visit our website which is below and use our easy to fill out contact us form.
Our website is https://woodyscustomlandscaping.com or feel free to view these other landscaping blog posts we have written. Just click and you will find all the other blog posts we have written.   Outdoor Living Construction Estimates
Blog post 2
What Makes A Good Landscaper?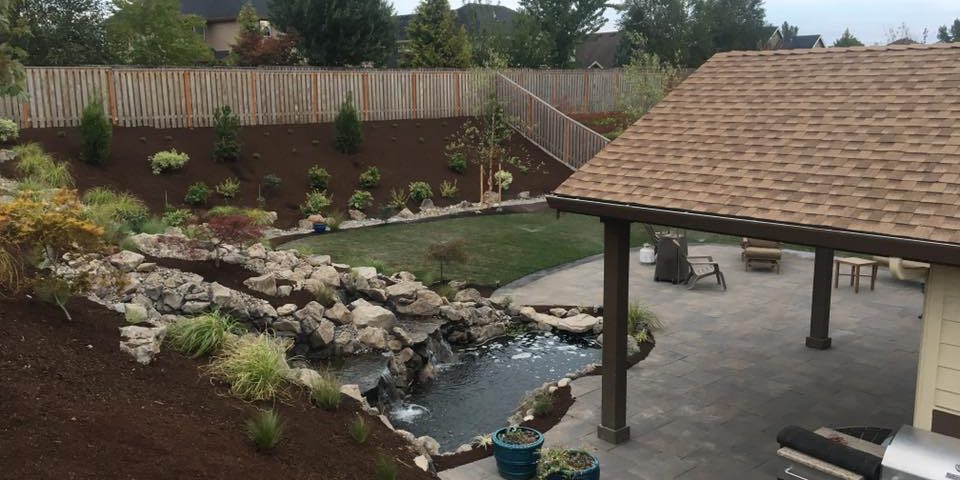 What makes a good landscaper is a great question for those seeking a landscape contractor. The answers are many. First a good residential landscaper and the crew must have a good working knowledge of many different tasks revolving around landscaping. A good landscaper must be a master of many different items. A good landscaper must know scale and dimension. He or she must be able to implement the project. Some of the many things that must be common knowledge are: plumbing and irrigation, paver patio installation, retaining wall building, construction knowledge, horticulture skills, low voltage light installation and of course a artistic sense of overall  scale of landscape projects.
I personally think that landscaping is a truly ambitious calling. A good landscaper cannot be just average in their skills. One must be very knowledgeable. These skills cannot be passive but very overt. A good landscaper must also be able to lead crews, get clients, budget, and run the daily business. Not everyone can pull this off.
Our office phone is 360-687-1882 . Give us a call and we will give you a free, accurate and on time landscaping estimate. We specialize in hardscapes, landscape design  planting, irrigation and sod lawns. https://woodyscustomlandscaping.com/landscaping-quote-request/
You may want to consider another landscaping blog post we have written. Backyard Landscaping Ridgefield Washington   https://woodyscustomlandscaping.com/what-should-be-in-a-landscape-estimate/