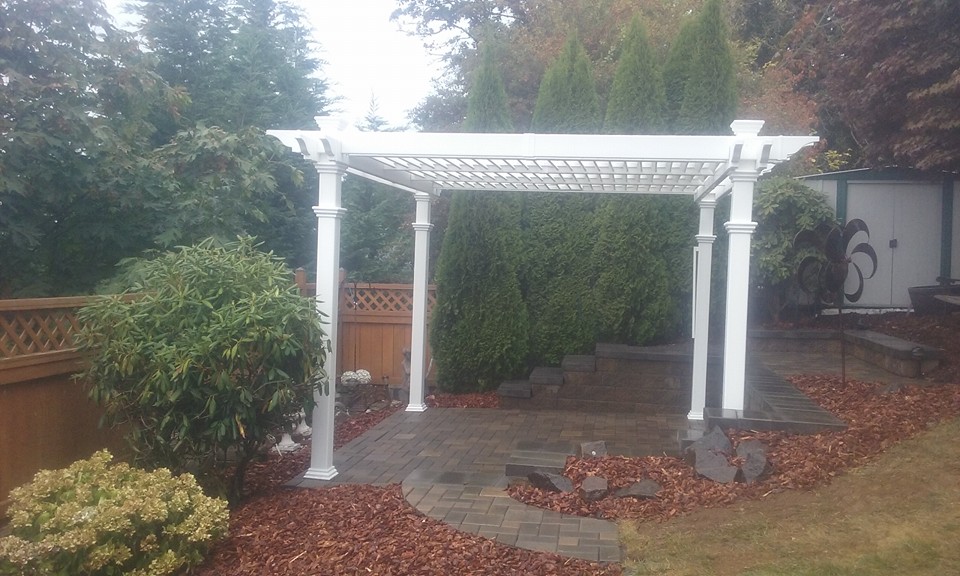 DIY Landscaping or Hire A Landscape Contractor?
November 25, 2016
Some Great Landscaping Reviews Through Yelp
December 8, 2016
Outdoor Living Construction Estimates
Enjoying your outdoor living with family and friends in the Pacific Northwest makes the term outdoor living more than just a phrase. In the Vancouver WA area it is a reality. Twenty three years ago it was enough to have a sizable concrete patio and some lawn to enjoy on the weekend. Now, it is a life style where most of our landscaping clients want much more. Paver patios are on top of the list. Next comes seat walls, fire pits, water features, outdoor kitchens, landscape lighting and of course planting. The following is how you get your outdoor living construction estimates. The easiest way is to contact us at this link   https://woodyscustomlandscaping.com/landscaping-quote-request/  or continue reading.
Outdoor living with hardscapes and  landscaping Vancouver WA Designed by Woody's Custom Landscaping, Inc.
So how do you go about getting reliable and trustworthy hardscape and outdoor living construction estimates? So many now go via the internet. Whether you search via a mobile device, laptop or desk computer, the internet will give you a start in your quest for a proposal. I personally will not go to ads on the internet and I try to see who can show up organically. You must then contact the landscape contractors you wish to invite to give you a estimate. They should of course be licensed, bonded and insured, but that is only a basic requirement. Check their web site. See just what kind of work they do well. Not all landscape contractors do the same quality of work. Next you contact them either on the phone or through a contact form on their web site. Entertain three estimates. Any more and confusion comes. Make sure the landscape contractors come on time, give a prompt and accurate estimate and seem like someone who you would like to work with on your outdoor living project. The lowest price is not usually the best avenue to pursue, especially if the proposal is so much lower than the rest of the contractors. In the same token, the highest proposal is not the answer either. After all you are trying to get the best value for your dollar. Most importantly, make sure the contractors are all supplying estimates that are what I call apples to apples.
Some other links you may find interesting are: Outdoor Living Construction in Vancouver or this video
The bottom line is I would like you to contact us @ 360-687-1882 or visit our web site https://woodyscustomlandscaping.com and use our easy to use contact us form. We will give accurate and quick outdoor living estimates. We have over twenty three years of experience as a landscape contractor in the Vancouver Washington and Camas Washington area with many references and many examples of quality hardscapes and landscaping.