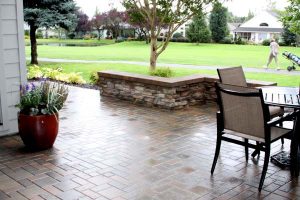 Outdoor living areas come in many sizes and styles. In this blog landscape post I will attempt to show some examples of outdoor living areas we have built recently. They will range from small to big. Elaborate to simple. With all the bells and whistles to just enough for our clients.
The upper project was a very small yard that really allowed our clients to enjoy their front yard in peace and quiet. All cozy and all in scale.
This outdoor living area was complete with just about everything. You may ask, where is the outdoor kitchen? You can't see it in this photo but is in the left of the photo.
The example above is a more intimate setting. Maybe 4 people can come out and relax on the paver patio and sit on the seat wall while enjoying the natural gas fire pit. Of course all the while peacefully enjoying the sound of dancing water with the water feature.
The area above is for entertaining with a fairly good group of folks. All the while they can enjoy the pond and at night the led lighting. There is even a covered area for the BBQ.
Please visit our website @ www.woodyscustomlandscaping.com and use our easy to use contact form or give us a call @ 360-687-1882 for a great experience on the road to your new outdoor living area. We have been installing quality landscaping and fantastic hardscapes for over 25 years in the Clark County area. We want to be your Clark County hardscape professionals. Check out some more landscape blog posts Budgeting A Landscape With A Landscape Contractor or Paver Patio Construction Vancouver WA