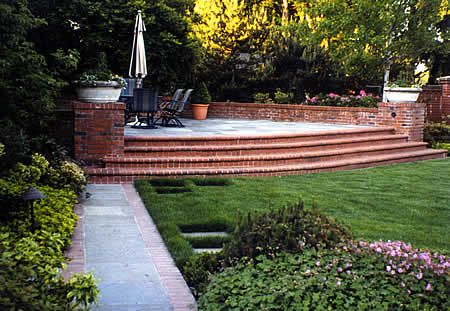 Outdoor Rooms Lead to Great Outdoor Living
September 23, 2016
Landscape Creations Video
October 3, 2016
Paver patios of all sorts are one of the most popular
There's no right or wrong way to design a paver patio. But your yard probably has some restrictions that need to be considered before you can implement a creative patio design. Before you begin planning your patio, consider the following questions:
Does your yard have any slope issues? If so, the size of your patio may be restricted. Leveling yards to install a patio is a costly and tedious process, but retaining walls in the scope of the design would help in getting a larger patio.
What other features do you want on your patio? If you desire other features in your paver patio, like maybe an outdoor kitchen, a fire pit, seat wall or any other advanced hardscape features, it's best to add additional hardscapes during the construction of your paver patio. Make sure you have a wish list of features, and we can give you accurate hardscape estimates.
Always get your hardscape estimates from  hardscape professionals. Many say they are professional, but the truth of the matter is many are not and say they are. At Woody's Custom Landscaping, Inc. we have been installing quality paver patios before they became popular. We install all our paver patios as per ICPI guidelines and you can be sure of many years of use with no problems. Please give us a call @ 360-687-1882 or visit our website @ https://woodyscustomlandscaping.com  or check out some other blogs about paver installation and estimates. Paver Patio Estimates or this blog post Paver Patio Construction Vancouver WA   .